Green thumbs don't come easily; they take lots of hard work and the right tools. If you know someone whose plant hobby turned into a lifelong passion, then you know they probably have all the tools in the book. But we've taken the time to round up 15 unique ideas that are guaranteed to excite the gardener in your life, as well as their plants! We're here to make life easier with some of the best, most durable tools that get the job done. Whether you're buying for a first-time gardener or someone who spends all day caring for their crops, we've got the perfect gift idea for them. 
Your favorite gardener will be ecstatic to ditch the pump sprayer when you gift them this powerful battery powered sprayer. The Shower MAX comes equipped with a durable trolley that makes transporting this sprayer easy and efficient. They'll be thanking you for saving their time and their backs this gardening season.
Perhaps the gardener in your life wants to start composting, but doesn't know where to begin. This outdoor composter contains two chambers, one for more fresh waste and the other for waste that's further in the composting process. For a gardener looking to promote healthy plant growth and enriched soil, the Dual Chamber Tumbling Composter will provide a quick and effortless composting experience.
Keep your favorite gardener safe and cool with these snug-fitting gardening gloves. Made from bamboo, a natural perspiration absorber, these gloves will keep your hands cool in the hot summer days. The Bamboo Gardening Gloves provide durable hand protection without compromising the thin and flexible fit and feel.
For the novice, this set provides all of the essential tools you need to start growing your gardening game. The set is ideal for a variety of tasks, including digging, weeding, planting and more. And the good news is, the ergonomically designed handles are said to reduce hand and wrist fatigue while gardening.
From the small bushes out front, to the impressive garden around back, these electric pruning shears will do the trick. Compared to manual shears, prunz™ will leave your favorite gardener with plenty of extra time and a healthier garden. With the ability of making 3000+ continuous cuts on a single charge, these electric pruning shears will take the grunt work out of pruning, allowing for an effortless experience.
This garden cart's quick-release dump features makes unloading quicker and easier than your average wagon. It's durability and maneuverability allows you to use this as a wheelbarrow, yard cart, plant mover, and much more. Designed for efficiency, the padded handle allows you to pull up to 600 pounds.
This tool belt will save them several trips back to the shed with five pockets to keep tools ready to go. They'll never be looking for that misplaced shear when they have all of their essentials in the same place. Not only is it made out of sturdy material, but it's fully adjustable to be worn by the entire gardening family. 
Keep your loved one's knees happy with this extra thick kneeling pad. For those who spend just about anytime in the garden, they know it requires a lot of hard work. This comfortable kneeling pad will eliminate any distractions from getting the job done.
Your favorite gardener will thank you for this unique soil test kit. Grow the healthiest, most sustainable garden by testing before planting to see what your plants will need! Know exactly what's in your soil by testing for pH levels and 13 different nutrients that are essential for gardening.
If you share a garage with an avid gardener, then you know that outdoor tools are laying around just about everywhere. This garden tool organizer sits perfectly in a garage to store all of those essential tools, small or large. When you're ready to use them, consider bringing this organizer outside with its mobilizing wheels.
When summer comes back around, the gardener in your life will be needing some extra protection from the sun. This sun hat features 50+ UPF fabric that blocks 98% of the sun rays, while also protecting your ears, neck, and back of head with an additional neck flap.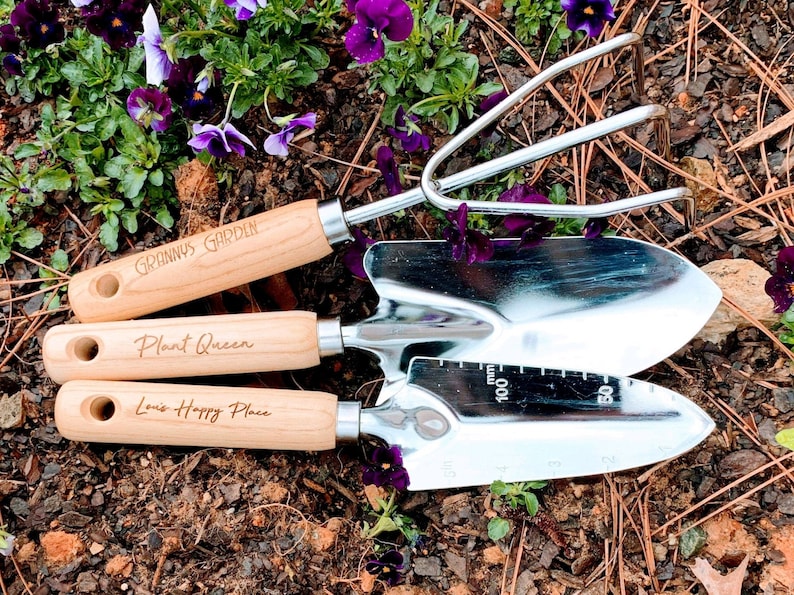 Even the most advanced gardeners likely don't have their own customized set of gardening tools. This unique gift will add some extra excitement and personalization to your gift giving this year! Not only do these make a fun addition to your toolset, but they are also durable, stainless steel tools.
This unique garden bed provides ample space to raise vegetables, while also providing extra storage and rolling portability. Its metal structure and drainage system will keep plants growing all season! For gardeners who need to limit the amount they bend over, the height of this garden bed provides an ergonomic solution. 
A great gift no matter no matter the skill level, these herbs are a fundamental piece of the garden. This 15 culinary herb seed vault is beginner-friendly, providing you with labels and a digital grow guide. Whether you're planting in an elaborate outdoor garden or a few pots inside, these herbs will advance your gardening knowledge and your cooking!
Does the gardener in your life struggle to find room for all their plants? This garden tower allows for up to 15 different plants and all you need is a square foot of room. It's suitable for both indoor and outdoor so you can easily keep those herbs growing close to your kitchen!